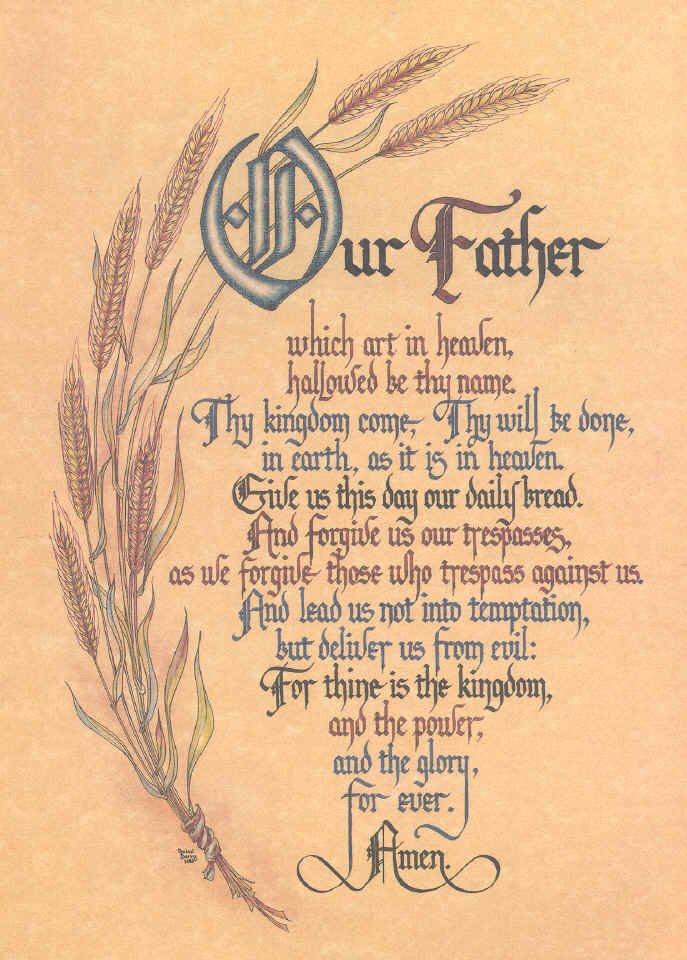 Father – God is a person and we should establish a personal or parental relationship with Him, when we address someone with Father it means we address our parent that we feel close bound. This means our God is personal and Trinitarian; and if there is the Father and the Son there will be the Holy Spirit. The Son is son by nature but we are sons by blessing. When we are cristened we become sons to God and brothers to Jesus. By this petition we get to know God's love.
What comes after the noun Father is the word "our".  What does "ours" mean? It means that the Father is our Father, to the whole community, He is not only mine or yours, but ours, and that is what the Church is. So this prayer is not personal but always for the Church. Outside the church and church community, this prayer, I dare say, does not exist and has no power or knowledge. When we say Our Father, it means that we are all brothers and sisters, because we have one Father, and when we are brothers and sisters, then it is unavoidable to love each other. What is mine is yours and what is yours is mine. You will be me and I will be you. Always put the brother or sister before us.
Who Art in Heaven – this means God is in Heaven, in His Heavenly Kingdom. However, by His nature He is endless and everywhere. The word Heaven marks the holiness of God than the place of His dweling. Further more, our Father is in heaven and we should have our mind, heart and aspirations directed to heaven, to good deeds, not to look at the world or in fulfillment of our passions.
Hallowed be thy name – God, according to His essence is holy, but we say Hallowed be thy name, with the thought that we should celebrate the name of God. How do we celebrate the name of God? The name of God is holy, because it is God's. Our life, words and thoughts should be sacred for those who do not know God so when they hear those words and deeds, they will be able to glorify God. We celebrate God through our good deeds and our whole life of good deeds. Same as when the deacon turns to the Archbishop using the words of the New Testament at the Liturgy: "In the same way, let your light shine before others, that they may see your good deeds and praise your Father in heaven" (Matthew 5.16). It means that when we do good deeds, then we celebrate God because we are Christians, and when all non-Christians see it, they will glorify God. It is wrong if it's the opposite way – when we embarrass God with our bad deeds. We then embarrass and condemn ourselves.
Also, this petition Hallowed be Thy Name, can be seen as a call for the practice of the unceasing Jesus' Prayer. When we accept that prayer with our whole life and we take it down in our heart, then we celebrate the name of God. And if the Lord's Prayer is a shortened version of the Gospel, then the short prayer is an even more shortened version of the Gospel, shortened version of the prayer Our Father.
Since the Lord's prayer is lengthy and requires attention, and even suitable surrounding, (and as I said that prayer is union with God, because St. The Apostle Paul says pray constantly) so we can constantly be in communion with God, because we love God and do not want to separate from Him. Therefore, the Holy Fathers have shortened the Lord's Prayer and conformed to Jesus prayer, whose root is in the Gospel (two blind man said: Jesus, the son of David, have mercy on us! (Matt7, 27); A Canaanite woman from that vicinity came to him, crying out, "Lord, Son of David, have mercy on me! (Matt 15,22) two men were sitting by the roadside, and when they heard that Jesus was going by, they shouted, "Lord, Son of David, have mercy on us!" (Matt 20,30); When he heard that it was Jesus of Nazareth, he began to shout, "Jesus, Son of David, have mercy on me!" Many rebuked him and told him to be quiet, but he shouted all the more, "Son of David, have mercy on me!" (Mark 10, 47-48 and Luke 18, 38-39) and thus we constantly say the Jesus prayer: Lord Jesus Christ, have mercy on me, at any place and at any time and we are always with God and God is with us.
To be continued…